OMG! PUPPIES™ SLOT MACHINE
This game offers slot fans a load of cuddly canine cuteness as seen with cats in OMG! Kitties. Man's best friend is the star of the show in this game perfect for those who love some absolutely perfect pooches. Who could resist at least giving this game a few spins. The game has symbols every dog owner might be familiar with including collars, food bowls, milk bones, fire hydrants, and, of course, puppies. Even the names for these poches seem fitting: Coco, Spike, Lady, and Maxx.
The pups serve as expanded symbols, taking up the entirety of the vertical space on the reels when they show up. The pick of the litter in this case is Maxx, who pokes his tongue out when he appears and serves as the game's Wild symbol. His appearance offers a chance at some even bigger rewards.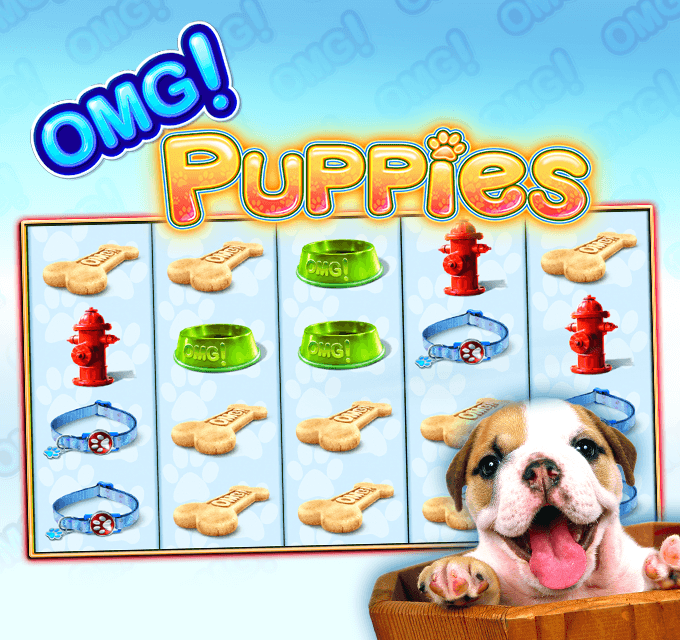 HOW TO PLAY OMG! PUPPIES™ SLOTS
5
CHOOSE "MAX BET" TO QUALIFY FOR Gold Fish
These puppies don't offer too many extras, but players will find one big one. See a dog on each of the first four reels followed by the Free Spins on the fifth and you'll be a winner. These puppies then head to a bonus round where you can collect a host of Free Spins. Initially, you'll receive five spins with a 1X multiplier, but that can be ramped up to even more spins every time Lady makes an appearance.

That's not all. See Spike on a reel and see an increase on the game multiplier. If Coco shows up, she adds a reward for the game's scatter symbols. Maxx comes with a bit of mystery in the bonus game. He causes any of these to see a random increase, so he's certainly worth dialing in. A 100X bonus multiplier also awaits those who can find some nice spins as well.

OMG! Puppies offers plenty of opportunities to leash up some fun. This game may not have tons of bells and whistles as some other games, but who can resist so much cuteness? Drop in some credits and get ready to do some cuddling – and hopefully win some cash too.